Want to be 'liked' by a billion people on their mobile devices (mostly)?
What a self-esteem booster that would be.
Of course, only the greatest ad ever known to man-or-woman-kind could do that.
But, that's how big Instagram has gotten, with 85.5 million of those 1B users in the U.S. Only Facebook is bigger. Being #2 ain't so bad, eh? Yet, Instagram is numero uno in growth per quarter, at 5%.
Watch out FB, Instagram is coming.
Instagram is the photo-and-video-sharing network behemoth for consumers and brands. With users sharing 95 million photos and videos per day.
And for your biz?
eMarketer estimates Instagram ad revenues will balloon to $10.87 billion by 2019. A 37.7% increase since 2017. Snapchat is for slightly more mature markets, using broadband and high-end mobile devices, mostly for millennials. Instagram however, is attracting even younger people in mobile-centric, emerging markets. Most users are between 18-29 years old.
With this humongous community, how are you going to get after it?
To get your brand in front of new fans?
Read on… we'll show you how. Let's get straight to it.
Oh wait, silly me… forgot one thing first…
What are Instagram likes?
"And why does it matter?"
Good questions.
Like with the other platforms, just click an icon to 'like' what you see and hear. Though unlike the others, you don't have to be a follower.
'Likes' matter because they're often the first contact between your business and a new follower. This makes it easy for anyone to appreciate your post.
On Instagram, the 'like' icon takes the form of a heart.
More likes = more cred for your brand.
Think of it as a long-term, stay-top-of-mind, marketing strategy.
Onward to the tips, for reals this time.
Bonus: Download a free checklist that reveals the exact steps an adventure photographer used to grow from 0 to 110,000 followers on Instagram with no budget and no expensive gear.
13 real ways to get more Instagram likes
1. Share high-quality photos and videos
Of course, great content requires thought and planning. That is if you want people to actually click that heart. Three tips to help:
Show your face. Or someone else's. To increase your odds by 38%.
Know your colors. Primarily blue pictures get 24% more 'likes' than red ones. Single versus multi-colored also increases 'likes' likelihood by 17%.
Choose your filters. Thoughtfully. Filters that increase contrast, correct exposure, with a warmer tone get the best results. Just ask Yahoo and Georgia Tech. Use Instagram's editing tools over their pre-programmed filters.
Keep things unique and varied, too. Instagram has tools for this. Here's just 3 of them:
Boomerang to create video loops, frontwards and backwards
Focus to blur the background while keeping the face in focus
Superzoom to automatically zoom in while playing a dramatic sound
Here are some more tips on how to edit Instagram photos for maximum likeability.
2. Use hashtags wisely
Otherwise, you'll make users angry. And Instagram, too.
You did your best to create great content, right? Keep up the pace with hashtags. These help others find you, even non-followers.
Finding you is the first step to liking you.
Best practices for appropriate hashtagging include:
Use relevant tags. Otherwise users will select the 'Don't show for this hashtag' option.
Place them just right. Say, 2 or 3 of your most important tags in the photo caption.
Need more than a few? Fine, Instagram allows 30 per post. But post them as a comment, more out of the way than your main hashtags. Find out how to do this in our Instagram Hacks post.
Vary them up. Don't use the same list for every post.
Which hashtags should you use?
Not the ones everyone else is using. Sure, #like4like is popular. But it's pretty obvious to your followers that you're fishing for 'likes' rather than connecting with like-minded peeps. Bots love these, too. Your stats will be meaningless, just like those tags.
Lebron James got in on the act with a vintage photo using #tbt (short for #throwbackthursday). That netted him 265,000 likes. Nice one, King James. Swish again.
View this post on Instagram

Wanna be one of the first to Congratulate you on this accomplishment/achievement tonight that you'll reach! Only a handful has reach/seen it too and while I know it's never been a goal of yours from the beginning try(please try) to take a moment for yourself on how you've done it! The House you're about to be apart of has only 6 seats in it(as of now) but 1 more will be added and you should be very proud and honored to be invited inside. There's so many people to thank who has help this even become possible(so thank them all) and when u finally get your moment(alone) to yourself smile, look up to the higher skies and say THANK YOU! So with that said, Congrats again Young King ????????! 1 Love! #striveforgreatness???? #thekidfromakron????
One could write an entire article, just about hashtags. And we did.
3. Tag relevant users
Why tag someone? To encourage them to engage with your post and share it with their followers.
Or to credit them, if they took the picture/video.
Tag other Instagram users featured in your photos with an @-mention in your caption. Or, use Instagram's tagging functionality. Either way, they'll receive a notification.
4. Write darn-good captions
I was gonna say 'damn-good', but thought not to.
Anyway…
A nice visual plus text is like peanut-butter and chocolate. Readers will go 'ahhhh' (and tap the heart).
Write your captions with some TLC.
Tell your story, using words and pictures. Unlike Twitter, there's no character limit. Make it long, or not. You get to decide. But make it count.
Some ideas:
Ask a question. It can make the reader lean in, with interest. Sounds less promotional, too.
Let your hair down. A little humor never hurt nobody. That 'suit and tie' approach… sucks. Especially for this crowd.
Show some love. Got followers praising you? Cool. Mention them in your caption.
That 'less is more' thing. True that. Sometimes a minimalist caption will highlight a striking image. Also, it can be a stylistic way to impress followers. One-liners, quotes, song lyrics… you've got options.
Short on caption ideas for your photos or videos? Get inspired.
5. Tag your location
Tagging your location puts your business on the map.
And, makes it dead simple for people to discover your photos and videos.
Plus, users view posts more that are tagged with a location.
Here's how simple it is:
Tap 'Add Location'
Search for your location
Select it and post the photo or video
This becomes a clickable field for the user. Clicking on the location shows all photos and videos for that place. Your brand is now associated with this location, like a shop, hotel, or head office. Or, make it more general, for a city or town.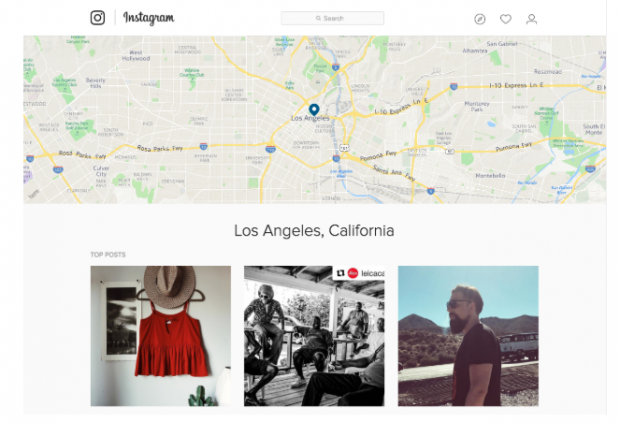 We good? Moving right along…
6. Get on the Explore tab
Also known as the Explore page.
What is it?
Curated topics and personalized content you will adore. At least that's what Instagram believes, based on your previous actions and engagement patterns. Wired calls it, "the most honest place on the internet." Ah, how nice. Click on the magnifying glass to see for yourself.
Why use it?
For your brand to become more recognized. Placing high on the Explore tab can get you new followers and a steady flow of traffic.
How to get on it
It's not completely known, but most likely, Instagram uses these criteria to place content in the Explore tab:
Content similar to what users engaged with
Content with high engagement
Content from accounts similar to accounts the user already follows
How to improve your chances
Know your audience. Like: your target customer, their interests, and who they follow. Create a persona to target your content.
Listen closely. Tailor your content based on how your audience is engaging with theirs.
Use hashtags. We talked about this above. Don't skip it.
That's the abbreviated version. Learn more in our post on how to get on the Explore page.
7. Post consistently
Why?
People will know what to expect. This keeps followers engaged with a consistent, versus overwhelming, flow in their feeds.
Establishes authority and credibility. You'll be considered a thought leader in your industry.
Your brand will be recognized. By consistently sharing content with your target audience. 93% of organizations depend on this.
Engage with your audience. Which makes them come back for more. Loyal customers generate more revenue. Cheaper than acquiring new ones.
Generate leads. Give people useful, interesting content, they'll knock on your e-door to learn more.
8. Post at the right time, too
Which is 12 p.m. to 1 p.m. Monday to Friday.
That's what we do. Because our audience scrolls through Instagram during their lunch hour. Since we're B2B, our strategy is weekday focused.
Instagram moved away from the reverse-chronological feed, but timing still matters. They explain on their blog, posts are ordered based on:
Likelihood of their interest in your content
One's relationship with your brand
Timeliness of posts (an emphasis for us)
Timing is everything. What's yours?
Find out by:
Knowing your audience
Testing different times
Measure what works, what doesn't. Do more of what does.
9. Run a "like-to-win" contest
Say I offered you a free flight to your next holiday destination. You only needed to post a cool photo of yourself on vacation.
Would you do it?
Of course.
That's the seductive play of an Instagram contest.
There's a few types of these contests. We like the like-to-win one best.
It's simple to do. Just ask users to like an Instagram photo of your brand, so they can win a prize. It's a great way to connect with your audience and get people excited about your brand.
Set goals and metrics to see how it's working.
For building brand awareness, measure follower count, engagement, and website traffic
For an annual sale, measure purchases, year-over-year engagement, and landing page traffic
You get the idea.
10. Ask your followers to tag their friends
You can also encourage your followers to tag their friends in the comments. For example: "Tag someone you know who needs a vacation!" This can help expose your Instagram account to a larger network of people.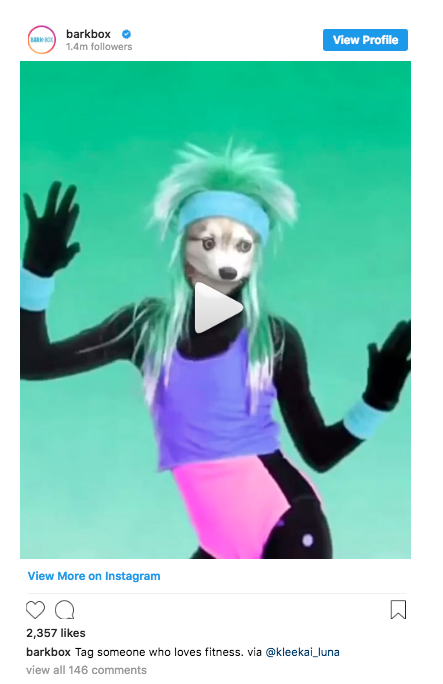 11. Comment and 'like' posts of others
Do this and Instagram will reward you, because they care most about engagement.
When a post receives a bunch of likes and comments, Instagram sees this as quality, engaging content that more people will want to see. So then…
Get on and scroll your feed
Like what you like
Write useful comments (not patronizing ones)
Participate in a social community that actually cares about each other's posts. Not much more to say than that.
12. Share your Instagram posts on other channels
No need to keep things to yourself.
Increase your reach by sharing your posts on other social sites. But, alter them a bit versus just posting as is. So it works best for that platform and audience. For instance…
Address your Facebook friends differently than your LinkedIn connections
Edit your message to fit Twitter's 280 character count limit
For Pinterest, post just the picture
Use formats wisely, too.
Multiple hashtags work well for Twitter and Instagram. But on Facebook or LinkedIn, you might not get the same results.
13. Use Instagram ads
Remember that $10.87 billion in revenue by 2019?
You want some of that, right? Just like 2 million other companies.
Here's some ads to help you get more likes on Instagram:
Photo ads
Use these to tell your story and showcase your products using compelling images.
Parachute Home used these to promote a 60-night trial of their bedding, using a Shop Now call-to-action.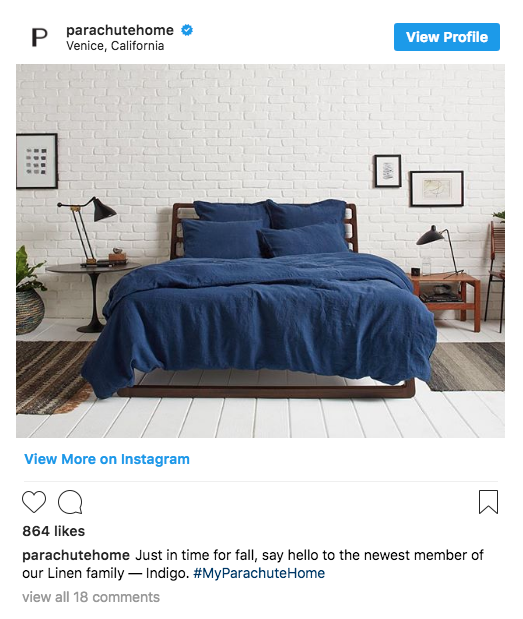 Their beautiful stuff aimed at 18-54 year-olds, for their core customer profile. The result? A 3.7 times return on spend. With a click-through rate 2 times that of ads on other platforms.
Video ads
As we now know, Instagram users are crazeeee about videos.
Videos were posted 4 times more than photos in 2017, compared to 2016.
Seems you should do the same.
OGX, a global hair care brand, created a video campaign around 'Rock What You've Got". This featured women celebrating their diverse hair textures and styles, targeted to millennial women.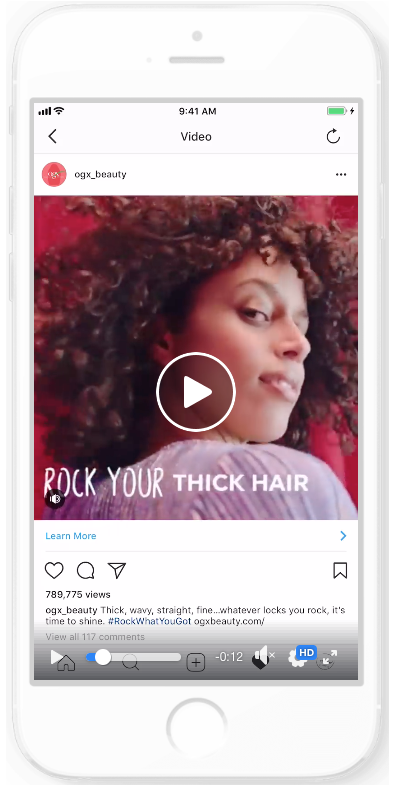 This reached an impressive 61 percent of the target audience in the US. The same in Canada, UK, Germany, and Australia combined.
Video ads can be up to 60 seconds, but OGX shows a solid video doesn't need to be long, as theirs was only 15 seconds.
Carousel ads
These let users swipe through a series of images or videos, with a call-to-action button connecting them directly to your website. Use more creative freedom to tell a longer story.
That's what Kayla Itsines, founder of fitness empire Bikini Body Guide did.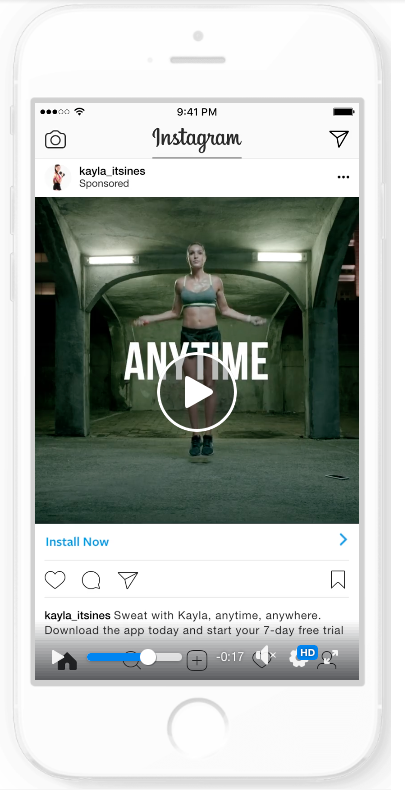 She created and published a series of carousel ads for her workout app, Sweat: Kayla Itsines Fitness.
This showcased short fitness sequences demonstrating how users could exercise anywhere, anytime with the app. She targeted women aged 18 to 42, reaching 6.4 million people. With an incredible 21-point increase in brand awareness.
Woohoo! Gonna work on my bod right after completing this post. I'm inspired.
Sight, sound, and motion to inspire people around your brand and products.
Stories ads
These are full-screen ads appearing to users between Stories they're already viewing from people they follow. 400 million Instagram users view Stories every day.
Choose how often people see your Stories ad. Stories expire after 24 hours, ideal for sharing limited-time offers and promotions.
Stories ads look like a regular post. The call-to-action works like a swipe-up feature, taking users directly to your website.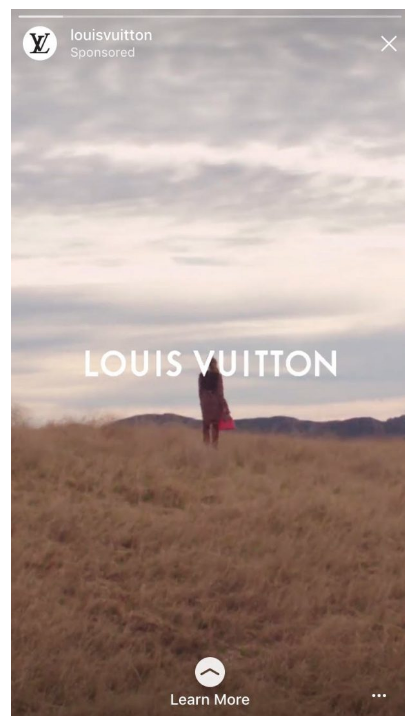 Good stuff for getting more Instagram likes using ads. Read even more about how to advertise on Instagram.
And that's the story of how to get more Instagram likes
Now you know how to get more likes, which will get you more followers.
Nice.
But that's not the only way to get more followers. Here's 21 more ways.
A marketer's job is never done.
And we can help…
Save time managing your Instagram presence using Hootsuite. From a single dashboard you can schedule and publish photos directly to Instagram, engage the audience, measure performance, and run all your other social media profiles. Try it free today.
Get Started
The post How to Get Instagram Likes: 13 Tips that Actually Work appeared first on Hootsuite Social Media Management.
Original source: https://blog.hootsuite.com/instagram-likes/